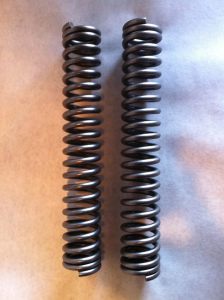 Just made these 1941 Indian Girder fork springs for one of our customers.
1941 Indian Girder Motorcycle Fork Springs
trish
2019-08-20T21:16:21+00:00
Complete restoration by Weldon's Motorcycle Restorations. Same year as the bike Steve McQueen rode in the International 6 Day Trails. Frame powder coated and exhaust coated by Performance Coatings Okc. Front fork springs by Cannon Racecraft.
'64 Triumph 500cc T100
trish
2016-08-11T20:25:33+00:00