Kerry,
You have hit another home run with your "BEE-HIVE" conical valve springs for the RMZ 250 Suzuki. As always your research has resulted in a superb spring that allows my motors to run at their optimum performance and a bonus is the increase life of the valve train. Added performance, increased durability gives me the reputation as a desired engine builder, putting me on the level of many "name brand" builders, Thanks to you! I shouldn't be surprised thought, after years of supplying custom springs for my clutches to custom suspension springs. I've come tp trust you are THe source for all my spring needs. And to top it all, at prices that gives me the profit margins I need.
Thanks Kerry and Crew
Chris Grissom
Chris Grissom Racing
Suzuki of Paris
Paris, Tennessee
………………………………………………………………………………………………………..
Kerry
At L S E we view valve springs as one of the most critical components of our racing engines. Not only can failure be catastrophic, valve springs can also limit power output. Using Cannon Racecraft springs we have experienced no failures and due to the progressive conical design frequency is minimized, inertial mass is minimized and valve lift can be increased, thereby allowing us to build reliable yet powerful racing engines. Simply put they are the best spring available.
Larry Leavitt
President – L S E
………………………………………………………………………………………………………..
Kerry,
Please extend my appreciating to all of those who work at Race Craft! I am very pleased with the entire process and quality of my spring. I now have a much better ride and the spring looks a lot better then the stock spring that came on the bike. I will definitely use you in the future as will I tell everyone I know about your products.
Thank you,
Shane A. Morgan / Fidelity Investments
Software Engineer
………………………………………………………………………………………………………..
ODS-Implementation
I bought the 11.5 KG rear shock spring to replace the stock spring on my XR650R… wow what a different bike it is now!! We ride mainly in the desert here in the Middle East and I found now with the "stiffer" rear spring the bike holds line a lot better and has less "tail swing" in the sand. Awesome product… I would recommend anyone.
Kind Regards
Mark Tapson / Director Global Project Pursuit
Emerson FZE
………………………………………………………………………………………………………..
Dear Kerry:
First, I would like to thank you for your sponsorship of Team Samsung/RadioShack this year. Your springs were used during the entire supercross series and your help and support were greatly appreciated!
I knew that the YZ250F would be a good platform to build a race bike. Having thirty years of racing and suspension experience behind me, my plan was to stay close to stock on the motors, and to concentrate on the suspension. I have a really good sense of what works so when I went looking for help, I went to the people who had the best products to work with.
During testing we were looking for the optimum setting of the shim stack, oil height, spring rate, and preload. We removed one of the variables by using Cannon Race Craft springs… "spring quality". Those springs have the ability to hold their free length much better and are a higher quality than the stock springs for the YZF250's.
When I was given the green light to put the Samsung/RadioShack team together, I had less than ninety days until the first race. This team started out with six riders who needed six race bikes, six practice bikes, and three test bikes. During our testing and preparation for the first Anaheim race, we had the same sets of suspension apart many times a week, sometimes 2-3 times a day.
And the plan worked well in the supercross series. We finished 24th, 18th, 11th, and 9th in the AMA THQ Supercross West Series, and 29th and 15th in the AMA THQ Supercross East Series. We got the hole-shot in two main events. Got on the podium once. We finished with a 4th and 5th place overall. And finished 6th, 7th, and 8th in one main event. We showed up at each round of the AMA THQ Supercross Series with three to six riders, and always put 90% of them in the main event.
As we moved on to the outdoor races, the Ohlins suspension people wanted to help with the team. Subsequently, they have been at all the outdoor races with two to three technicians and six complete sets of suspensions to help with bike set-ups. Their help has removed a tremendous burden off of me.
One of the things that I have always been impressed with over the years of working with your company is your desire to build the best product on the market. In my opinion, your springs are some of the best in the market place today.
Lastly, absolutely yes. You have our permission to use the photos that I reviewed to promote your product line. Once again thanks for the many years of help and quality springs!
Regards,
Lucky Nichols
Manager
Team Samsung/RadioShack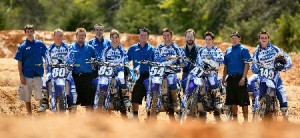 Holigan Walters Racing Team and Lucky.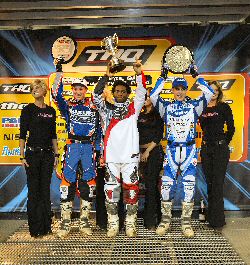 Michael Blose (on the right) with his 3rd place overall trophy